No.1247
Trailer Winch enables safe, easy loading and unloading of boats. Features one-piece, heat-treated milled gears for durability. Compact, portable winch is simple to operate. Includes 11/64in. x 33ft. wire rope.
• Wide range loaded capacity
• Single speed
• 4.1:1 gear ratio
• Includes 11/64in. x 33ft. wire rope with safety hook
• One-piece, heat-treated milled gears
• Stainless steel or galvanize steel.
• Compact, portable design
• Simple operation
W.L.L/B.S.

800lbs/1200lbs, 1200lbs/1800lbs, 2500lbs/3750lbs, 3000lbs/4500lbs.

Certification

CE-SGS

Main Gear: Φ9.6cm*6mm, Φ13cm*6mm ,

Axle Gear: Φ4.2cm*8mm,

One Piece ,Milling Shaped , Heat Treated Gears and Pawl

Body

Stainless steel or Steel plate A3 ,

Thk : 2.5mm

L 12cm * W 8.2cm * H 8cm

L 13.5cm * W 9cm * H 9.5cm

L 19cm; * W 10cm * H 11cm

L 19cm * W 10cm * H 11cm

Handle

black or red ABS plastic : Φ2.5cm*16cm

steel shaft : L:19cm*W:2.5cm*T:0.5cm

Cable

Φ4.0mm-Φ6.0mmX10m ( A36 steel)

Hook capacity

(size)

W.LL/BS : 1000kg/1500kg

(60mm*88mm)

Finish

Stainless steel or Galvanized or Powder coated.

Transmission Structure

2way, Gear ratio : 3.1:1. 4.1:1

2 way 2 speed, Gear ratio : 4.1:1/8:1
Call now: 0086 574 56195982
Email to Us
Product Details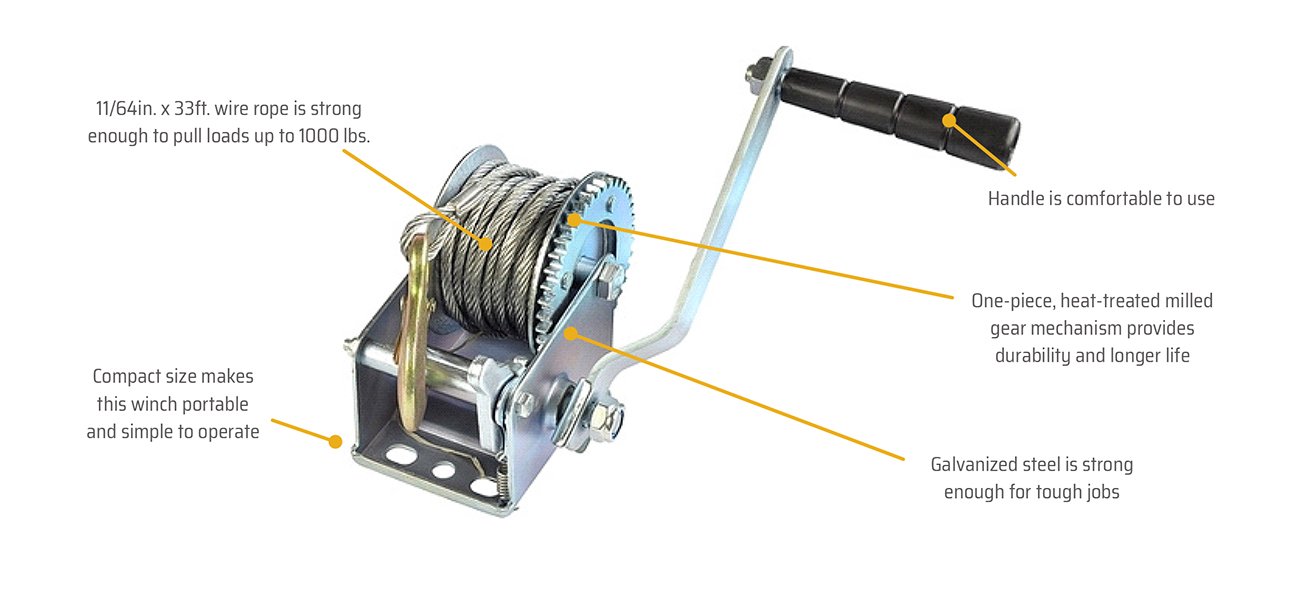 Random Recommendation
Latest News
The crisis caused by COVID-19 has changed our daily habits, has altered our routines and has forced us to adapt to a reality within which social distancing has been established, making us dispense of the physical contact with many of the pe...
Read the full story
Global Customers
We have business cooperation with many global brands. I believe your judgment and cooperation with us will make your business better!
Contact Us
Download the Catalogue
Download JGM Industrial® product catalogue and find all our product codes in a single document.
Download PDF